The story of Straight Arrow was explained in two schemes, one by NABISCO that was handling all radio and comic book campaigns for Straight Arrow, the second was Uity-cards published by McCann-Erickson advertising agency. These cards have been called "Injun-uity Cards." The word "injun-uity" is a play on the word, which is combined with the term ("injun") and the word "ingenuity," which is the ability to do something cleverly. One of the issues covered by this 'Indian know-how' was the development of objects in an Indian style or the right way to do different outdoor activities on each card. The cards have been published in four "books" series. Each book contained cards for a duration of approximately nine months in Shredded Wheat packages. Each book was made of 36 books. The publication of the comic book and the series of the newspaper had slightly gone through the coordination of the radio and Injun-uity cards' two-hour, joint marketing support campaigns.
Magazine Enterprises was the organization behind all of Straight Arrow's graphic representations, including the injunction cards, comic book, and newspaper series, though each publishing category had its own set of writers and artists. All of the injun-uity cards were illustrated by Fred L. Meagher. The comic book and newspaper series' publication dates were somewhat out of sync with the radio shows and Injun-uity cards' coordinated double-whammy joint marketing support campaigns. The newspaper series, however, was only a year-long, ending in late summer 1951. The comic book lasted longer, running from 1950 to 1956, a full five years longer than most of Straight Arrow's previous incarnations. The injun-uity books consisted of four volumes. Volume one and two was related to native Indians' lore house details, how they managed their households, and the related tool making techniques were given in detail. The booklet was famous as "Straight Arrow 72 INJUN-UITIES. Here I am sharing some of the injun-uity cards with you and their use by some native tribes.
Let's start with housing; in the uity cards of a straight Arrow, the technique to build a house is mention on page 7 and 8, that house is called Indian Tepee,
Indian Tepee: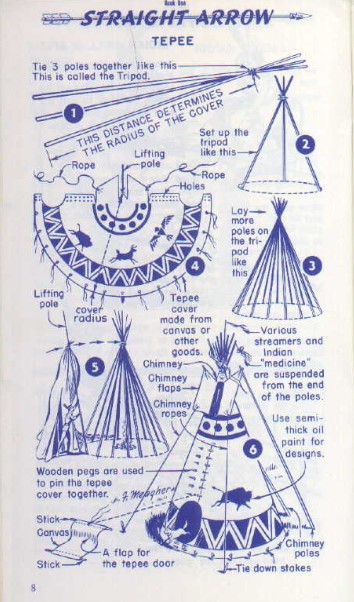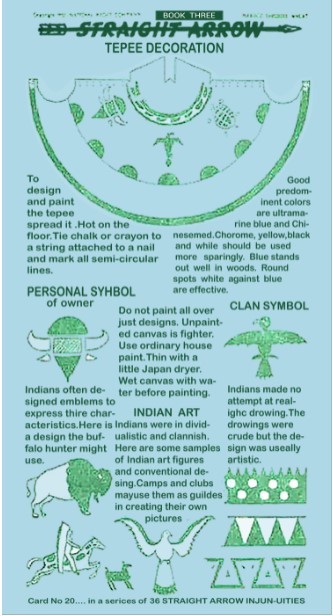 (In this card picture, you can have a look at Tepee making techniques and its decoration).
These house-making tricks were used by almost every tribe of Native Indians. Apache is a tribe who use such kind of Tepees for their living.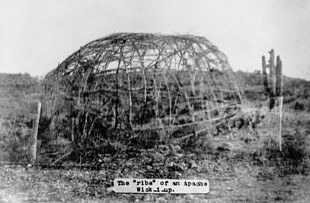 (A picture of wickup, a house built by Apaches)
The Apache tribe's residents resided in one of three types of homes. The first is the teepee, which was used by those who lived on the plains. The wickiup, an 8-foot-tall (2.4 m) frame of wood kept together with yucca fibers and covered in brush, is another form of housing used by Apache groups in the highlands. If a family member died while living in a wickiup, the wickiup was charred. The hogan, an earthen structure in the desert that was good for keeping cool in the hot weather of northern Mexico, is the final form of housing.
Morris Opler, an anthropologist, recorded the following description of Chiricahua wickiups:
The family's home is usually an oval, dome-shaped brush dwelling with the floor at ground level built by the women. It stands seven feet tall in the middle and has an eight-foot circumference. Long fresh oak or willow poles are pushed into the ground or put in holes dug with a digging stick to build it. The structure is made up of these poles, spaced one foot apart and tied together at the top with yucca-leaf strands. Bundles of large bluestem grass or bear grass are tied shingle-style over them with yucca strings. Above a central fireplace, a smoke hole appears. At the door, a hide is supported from a cross-beam and can be swung forward or backward. Any route is possible for the doorway. Pieces of the hide are thrown over the outer hatching for waterproofing, and the smoke hole is covered in rainy weather if a fire is not needed. Much of the outer roofing is stripped off in hot, dry weather. A robust dwelling of this kind takes about three days to build. Even if there is a lot of snow, these houses are "hot and comfortable." Brush and grass beds line the interior, which is draped with robes.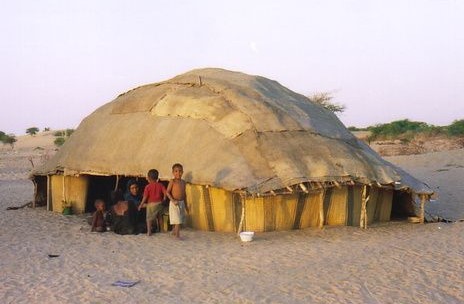 (Africans use a similar kind of house tent for a living).
The next thing I am going to share with my readers is Native American's tools used in the daily household. The process of such toolmaking was given in detail on injun-uity-cards on pages 4 and 5. Some waving techniques on page no 11 and papoose caring techniques on page no 12.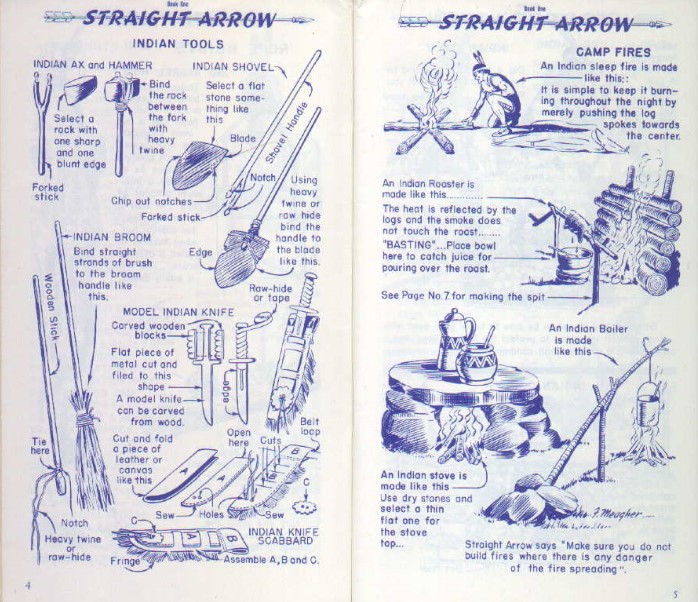 Tool making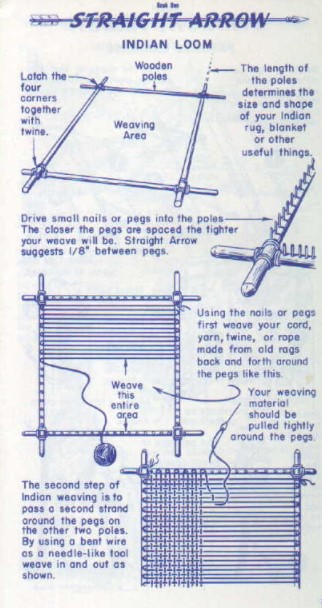 Indian loom
Najavo is a native tribe who use such techniques for tool, making baby carriage and looming.
The Navajos brought their weaving traditions to the southwest, but they learned to weave cotton on upright looms from Pueblo cultures. Navajo blankets were mentioned by the first Spaniards who visited the region. The Navajos began importing Bayeta red yarn in the 18th century to complement local black, brown, and white wool, as well as indigo-dyed wool. The Navajos made wonderful utilitarian blankets using an upright loom collected by Utes and Plains Indians. These Chief's Blankets were distinguished by horizontal stripes and limited red patterning, as only chiefs or wealthy individuals could afford them. Chief's Blankets have only horizontal stripes in the first phase, red rectangular designs in the second phase, and red diamonds and partial diamond patterns in the third phase.
The completion of railroads had a significant impact on Navajo weaving. Due to the influx of low-cost blankets, Navajo weavers shifted their attention to weaving rugs for a growing non-Native audience. Germantown wool from Philadelphia was also brought in by rail, which was commercially dyed and greatly extended the color palettes of the weavers. Early European-American settlers arrived and established trading posts, often purchasing Navajo rugs by the pound and selling them by the bale back east. Locals were encouraged to weave blankets and rugs in a variety of styles by the traders.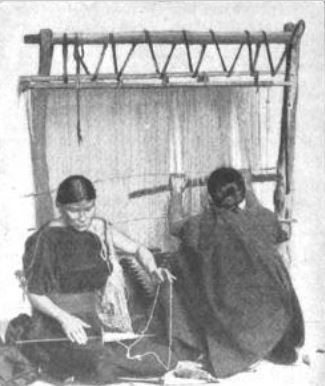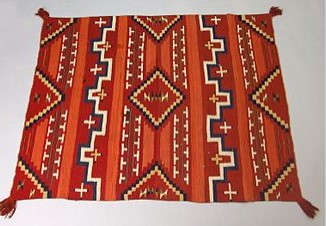 Women waiving regs Designed in 1870
Baby Carriage
In the Comanche tribe, the newborn was wrapped and spent a few days in the tipi with its mother. The mother returned to work after placing the baby in a cradleboard. She could easily hold the cradleboard on her back or prop it against a tree so the baby could keep an eye on her as she gathered seeds or roots. Cradleboards are made up of a flat board with a basket attached to it. Rawhide straps or a leather sheath laced up the front is used for the latter. The young one was securely tucked into the leather pocket using fluffy, dry moss as a diaper. The baby was bundled in blankets and put in the cradleboard during cold weather. The baby was held in the cradleboard for ten months before being able to crawl.
Both girls and boys were welcome to join the band, but the boys were given the upper hand. "It's your close friend," one of the midwives told the father or grandfather if the baby was a child. Families could paint a flap on the tipi to inform the rest of the tribe that they had added another warrior to their ranks. A man might name his child himself, but the father often asks a medicine man (or another notable man) to do so. He did so in the hopes that his child would live a long and fruitful life.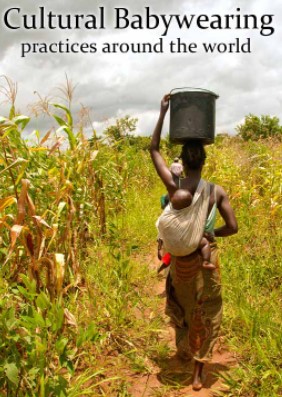 Presently, in Africa, still, women carry their children on their backs while going out to work.
Bow and Arrow Making
Such techniques were also discussed on pages 16 and 17 of volume 1, of uity-cards. All the tribes of Native Indians mostly used these tools, but primarily used by Comanche at the time of prey. Even the superhero Straight Arrow used the same tool for fighting against evil people.
A young boy identified not only with his father but also with his father's family bravest warriors. Before he could walk, he learned to ride a horse. He was supposed to ride a horse by the time he was four or five years old. He was given a small bow and arrows when he was around five or six years old. Since his father and other warriors were often on raids and hunts, a boy was often taught to ride and shoot by his grandparents. His grandfather even taught him about his childhood, as well as Comanche's history and legends.Boys were held in high regard because they would grow up to be warriors and could die young in battle. A young man went on his first buffalo hunt as he reached manhood. His father rewarded him with a feast if he killed anything. A young man was only permitted to go to war after proving himself on a buffalo hunt. In book volumes 3 and 4 of straight Arrow uity-cards, different clothing, jewelry, Indian saddle, and cultural things are explained.