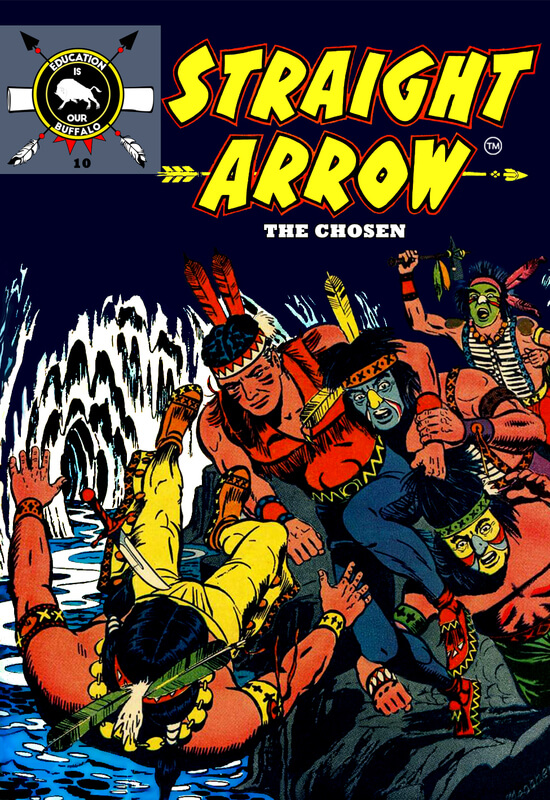 Straight Arrow 10
Straight Arrow-The River from Nowhere!
Characters
Steve Adams: Owner of cattle farm, straight arrow
Packy: Steve's close associate
Caddoes: dwellers in grass huts
Red dog: crow
Comanche used to wash their horses in a stream for years. Then some logs started appearing in the stream. They wondered where these come from. Soon crow, the horse stealers came and stole the pony herds of Comanche. When Comanche tried to get them, they always failed to follow their trail. Steve and Packy were in the village when Packy rode on his horse. When Packy asked, Steve told him that the fire smoke is rising from Comanche village from many days. He said that it seems they are being raided again and again. Steve went to the sundown valley and transformed into straight arrow. He visited the Comanche village and asked them why they aren't catching crow thieves. Comanche told him that whenever they follow the trail of crows, the foot prints vanish after some distance. The crow disappears with magic. Straight arrow and Comanche were talking that suddenly crow thieves came again and took away the herds of Comanche ponies. Straight arrow followed them and somehow managed to get on one of the running the mane. Then he entered into a secret cave which was disguising the Comanche people for a long time. Straight arrow thought of going back to Comanche but he had to save himself first from being caught. He attacked red dog, a crow and took his fellow blanket to escape safely. He went ahead and saw a stream from where he sent a log with message to the Comanche by floating water. As he was going this, a crow, suspicious of how red dog could have such broad shoulders, pulled off straight arrow s blanket. He shouted to let other people know that a Comanche is here. Straight arrow ran as fast as he could to save his life. Soon he was out the cave but he could see new crows with new horses coming towards him. Straight arrow was too tired now. He thought he would die now. But the Comanche warriors had got his message on time; they arrived and saved straight arrow.
Straight Arrow-Terror's Army rides the Plains
Characters
Steve Adams: Owner of cattle farm, straight arrow
Packy: Steve's close associate
Captain cobalt: army man who was disserted
Colonel Davis: army officer
Steve and Packy were riding on their horses when they saw a man whose wagon was stuck. Steve gave it a hand while Packy went to the ranch. Suddenly a crate from wagon slipped and Steve saw US riffles in it. Steve asked him who was he and where did he get these riffles from. The man called red men and ordered them to get Steve. They took him to their hideout and made Steve work for them. Steve had a doubt the man was once in army. When he asked, the man told him he is captain cobalt and was disserted by his army. Then he formed his own army by taking all disserted people in his team. Steve told him he was doing wrong; he can't take control over the plains by the use of a fake army. This made cobalt angry, he hit Steve and tied him . Steve heard those men talking about straight arrow who will come to help them. At night, Steve escaped from the place. He went to sundown valley and transformed into straight arrow. Then he went to cobalt to make him assume he is in his team. Then instead of a war cry, straight arrow warned the people. At First he tried to warn Colonel Davis but since he was told that straight arrow is on cobalt s side, he ordered to fire on him. Straight arrow rushed towards the hill corner to warn the settlers there. The settlers didn't believe straight arrow as they knew they were peaceful and nobody will attack them. But an explosion occurred, cobalt took all their weapons. They were worried now. Straight arrow asked them to fight with the remaining weapons while he will get more of them from cobalt s wagon. Straight arrow went and got the weapons. The army arrived and asked the settlers what had happened. They told the army that they were attacked but straight arrow is helping them. The army said that straight arrow is on their side. This made them suspicious. When straight arrow came to know about this, he did a blast with the help of powder trail he had left, and ordered the settlers to attack now. Now they knew straight arrow was on their side. Cobalt and his team were defeated and all the US ammunition was handed over back to the army.
Straight Arrow-The Noose!
Characters
Steve Adams: Owner of cattle farm, straight arrow
Packy: Steve's close associate
Plumer: sheriff
Spiff Hawkins: owner of gambling house
Plumer was a new sheriff in town since three months. He had been taking 20% from spiff Hawkins for not arresting him for his crimes. One day sheriff, with his people, reached spiff's place. He asked spiff to sign the papers saying he's given his gambling hall to sheriff. Spiff knew he would die whether he signed the papers or not. His hand was reaching to pick the gun when sheriff hit him hard and in doing so he died. Now sheriff and his people became worried about what to do to make people believe they're working on spiff's murder case. Plumer had an idea. He took control over the gambling hall and charged Packy for murdering Spiff Hawkins by making a trap. When Steve reached out to speak for Packy, Plumer charged a murder on him as well, and put him behind irons. Steve anyhow managed to escape from the jail. He transformed into straight arrow and went to gambling hall to find out what actually happened. Next day when sheriff and his men were about to hang Packy to death, straight arrow arrived. Sheriff tried to fire him but the people stopped him as they believed words of straight arrow. Straight arrow exposed the unsigned papers of ownership of gambling hall. He asked sheriff how he killed spiff and why did he put a charge on innocent people. Plumer and his men ran to escape but straight arrow caught them and they were punished for their deeds.