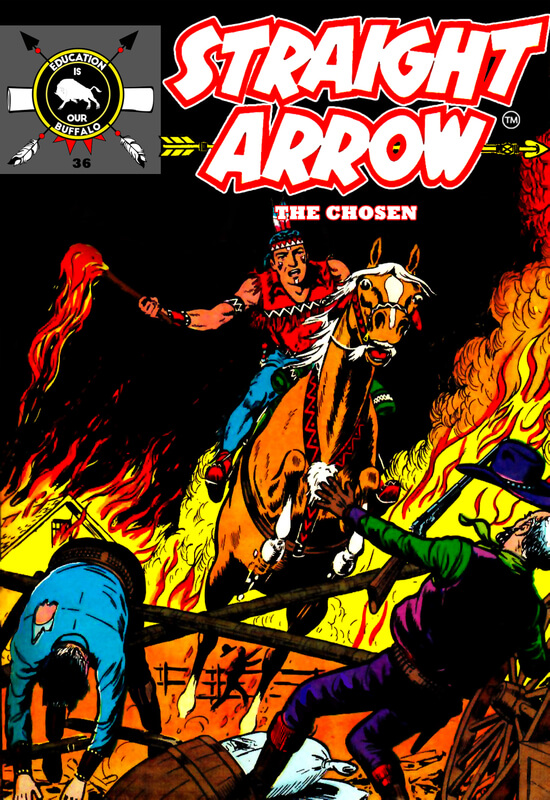 Straight Arrow 36
Straight Arrow- Danger Trail!
Characters
Straight arrow: Steve Adams
Blue cloud: Comanche girl
Raven feather: Comanche warrior
Tioga: young Comanche
Straight arrow and Tioga often went for hunting. This annoyed blue cloud alot. One day she changed the signs made by straight arrow to help Tioga find him. Then she took compelled straight arrow to go with her to picnic since Tioga had cheated him and won't be coming now. Straight arrow knew it was blue cloud who had played trick but he listened to her and went on picnic with her. Unfortunately crow warriors, who were heading towards Comanche village, saw straight arrow and blue cloud. Straight arrow sent blue cloud to inform Comanche warriors so they could help. Meanwhile straight arrow fought with the crows. Unluckily he got captured and was tied to torture stake in Crows village. Tioga saw this all. He went to Crows village to rescue straight arrow. He successfully rescued straight arrow but was captured himself. Now it was straight arrow's turn to rescue him. Straight arrow took Tioga and raced towards their village. When they reached back to their village, straight arrow was angry why blue cloud didn't sent Comanche warriors for help. Blue cloud was furious on raven feather, who didn't inform the warriors when blue cloud told him that straight arrow is in danger.
Straight Arrow- Terror in the Night!
Characters
Steve Adams: owner of the broken bow ranch/ straight arrow
Packy: sidekick of straight arrow
Claw Haskins, Calamity Kate, flash miller: outlaws
Jonas Tate: previous sheriff, father of Billy Joe Tate
Billy Joe Tate: sheriff, son of Jonas Tate
Claw Haskins, Calamity Kate and flash miller were greatest outlaws of their time. They robbed, threatened and killed people. They had their hideout hidden from everyone and guarded by strong men. One day Jonas Tate, sheriff found their hideout but was shot by those outlaws. His son, Billy Joe Tate took his badge and was furious on those outlaws. He promised himself he would kill them all. Though it was a very difficult task, but straight arrow convinced young sheriff to stay away from those outlaws. He knew Billy will still not listen to him. So straight arrow found the hideout of those outlaws. At night he stroke fire arrow into the outlaws' town. This burnt their houses and tents. Golden arrow of straight arrow and other terroristic tricks used by him, feared outlaws so much that they decided to go to jail where they would be safe. Hence all those frightened outlaws surrendered. Billy was amazed to see this. He was grateful to straight arrow for making this happen.
Straight Arrow-Return from the Death
Characters
Steve Adams: owner of the broken bow ranch/ straight arrow
Packy: sidekick of straight arrow
Mesquite Molly: housekeeper of Steve Adams
Ned hammer: Outlaw
            Ned hammer planned to take over Steve Adam's broken bow ranch. He ordered his men to steal some of his steers' every time. Steve Adams and Packy were after those outlaws that suddenly Steve's Bronc fell down and Steve got his badly on his head. He lost his memory. Packy was worried about him and his fury that might be hungry. On the other hand, poor hungry fury went out of the cave in search of food. When outlaws saw fury, they were sure straight arrow had died. Now they could easily take over wounded Steve's broken bow ranch. The news of straight arrow's death spread in town. Everyone was so sad. Then one day those outlaws saw Steve Adams. They shot him and he fell down into water. It was a good fortune for Steve, as his memory came back. He hurried to the sundown valley and searched for fury. Then he reached his broken bow ranch where the outlaws were already raiding to take control over the ranch and Packy and molly were worried for Steve. The arrival of straight arrow made everyone happy. People accompanied straight arrow and helped him get those outlaws to hand over them to sheriff. Packy, Molly and everyone else, except the outlaws were very delighted to see straight arrow alive.