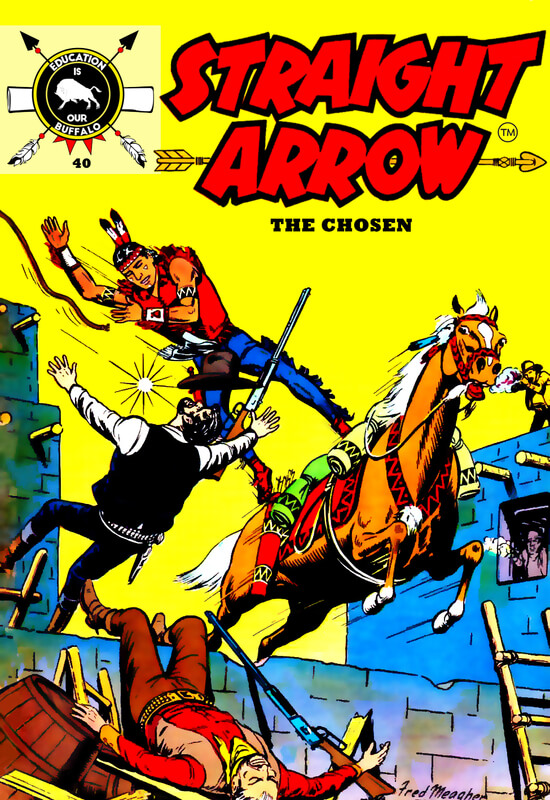 Straight arrow 40
Straight Arrow- Secret of the Spanish Spectres
Characters
Straight arrow: Steve Adams
Gloria bright: A white girl
Stubby smith: partner of Gloria's father
Francisco Coronado: Spanish explorer
Straight arrow found some men riding after a helpless girl. Straight arrow defeated them and saved the girl. He was about to go after those running ghosts but Gloria stopped him and asked his help. She wanted him to take her back to her ranch safely. Gloria told straight arrow that she had found the secret of the Spanish Spectres. A Spanish explorer, Francisco Coronado had found a treasure which he kept a secret as he didn't wanted to share it with Spanish people. Gloria told straight arrow that her father and his partner stubby smith went to search for that secret cave where all the treasure was kept. They succeeded in finding it but were bushwhacked. Stubby was wounded and Gloria's father died. Gloria had found the map of cave in his father's riffle. She followed the map and found the cave but was captured by the ghost conquistadors who were going to bury her. She escaped from that place and was safe because of straight arrow's help. Soon straight arrow and Gloria were at her ranch where she introduced him to stubby. Stubby was surprised to know that Gloria and straight arrow are aware of the secret of treasure. Later on, Straight arrow and Gloria were found tied in the cave. The ghost conquistadors were about to kill them but straight arrow managed to set him free and defeated them. They soon realized that those conquistadors were none other than stubby and his sons. Stubby had killed Gloria's father after they found the cave as he didn't wanted to share the treasure with him. Now when he was about to kill Gloria and straight arrow, Gloria's loud scream shake the cave and its walls begin to break. Straight arrow picked Gloria up and ran out of the cave. Stubby and his sons were busy collecting gold and were buried in the cave so did the secret of this treasure. Gloria was grateful to straight arrow for helping her. Straight arrow promised her that he won't tell anyone about the secret of the Spanish spectres.
Straight Arrow- The Executioners of Straight Arrow
Characters
Straight arrow: Steve Adams
Packy: sidekick of straight arrow
Bent bow: Comanche brave
Little bear: Comanche brave
Wart nose, Pointed head: Comanche braves
The tribe was poor and could not afford educating it's people. Bent bow and Little bear found a hidden place containing alot of treasuries in it. They took some of the gold pots to sell them to white trader so they can get money to educate their people. Unfortunately bent bow's arm got hurt. When he reached his tribe, he asked straight arrow to sell gold pots for his tribe. Chief told straight arrow that trader won't give them a fair amount for these gold pots. Still straight arrow offered these pots to white trader who made fun of him. Later the white trader made a plan with wart nose and pointed head to kill straight arrow. Straight arrow was riding with Packy that suddenly he heard gun shots. He escaped from that place. When straight arrow and Packy were rescuing an eagle, wart nose and pointed head caught them. They pointed their riffle towards them and asked them to move forward. Straight arrow was astonished to see how two of them were helping with a renegade. During their journey, straight arrow saved pointed head from a falling boulder and later from a rattler. Then the other day he saved wart nose from a Cayote. This opened the eyes of wart nose and pointed head. They felt ashamed of what they had done but now they decided they won't aid the white trader. When they met white trader, wart nose and pointed nose aimed their guns on trader instead of straight arrow. The white trader was amazed. Straight arrow got him and handed over to sheriff. Now they got a fair price for the gold pots. Fair enough to treat bend bow's arm and educate people of the tribe.
Straight Arrow- The Haunted Village
Characters
Steve Adams: owner of the broken bow ranch/ straight arrow
Packy: sidekick of straight arrow
There was a town know to be haunted. No one dared to go there. Some outlaws thought it to be a perfect hideout for them and started living there. One day Steve and Packy saw some kids playing. Steve accompanied them but unfortunately the ball went into the haunted town. Kids got afraid as they believed it to be haunted. Steve and Packy went into the town to prove their superstition wrong. When they went in, one of the outlaws scared Packy. Packy told Steve he had seen a man without face. Steve thought it is straight arrow's job so he transformed into straight arrow and went to the mine in town. He saw the outlaws were making some men work for them. Suddenly one of the outlaws caught straight arrow. Outlaws tied him to the cart and left it to crash. Straight arrow managed to set himself free before the cart crashes. He followed the outlaws who were going to rob a stagecoach. Straight arrow outnumbered all the outlaws and with the help of stagecoach and its driver he rode into the town. There he freed the prisoners and together they all defeated remaining outlaws. Then straight arrow took them to the sheriff.