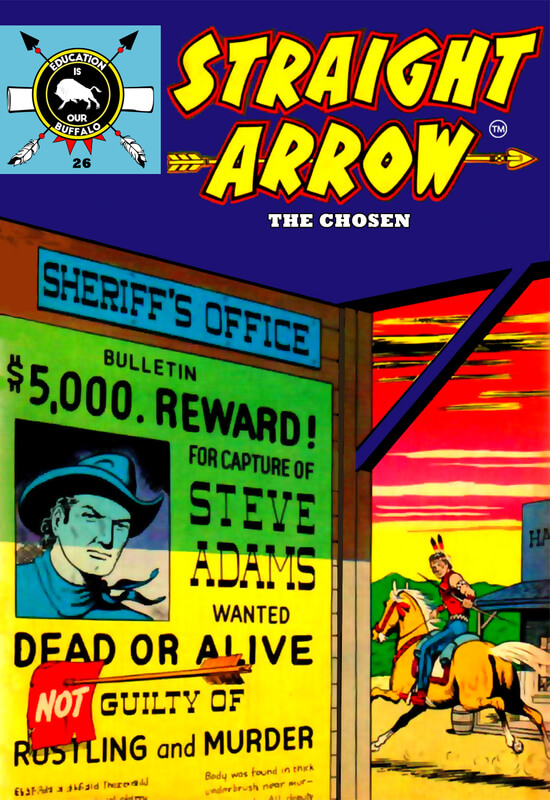 Straight Arrow 26
Straight Arrow- The Choosing of a Chief
Characters
Straight arrow: Steve Adams- owner of broken bow ranch
Burning pine: chief of antelope, clan of Comanche
Thunder dog, wolf paw, Elkhorn: sons of burning pine
Gleet shadow, crow foot: horses
The chief, burning pine was about to die. He called straight arrow and asked him to choose to next chief among his three sons who were all very competent. As soon as chief died, the three men came to straight arrow and asked who the next chief was.
Straight arrow knew all of them were great warriors. He decided to test them for selecting the chief. Elk horn thought he was not as competent as his other two brothers so he stepped back. On the other hand, wolf paw tried to kill thunder dog so he could become the chief. Straight arrow arrived on time and saved thunder dog. Now it was thunder dog's turn. He attacked wolf paw to take revenge. Again straight arrow ceased the fight. Straight arrow decided that a race would determine who will be the next chief. Thunder dog, wolf paw and elk horn ran a race on their swiftest ponies. Thunder dog and wolf paw started fighting in mid way. Meanwhile elk horn focused on the goal and won race. Straight arrow announced Elkhorn to be the chief. Thunder dog and wolf paw were happy for their brother and promised his they would support him in every war.
Straight Arrow- The Killers of Echo Canyon
Characters
Steve Adams: owner of broken bow ranch/ straight arrow
Mesquite Molly: housekeeper of Steve Adams
Packy: sidekick of straight arrow
The mole: leader of a gang
Mole and his gang members were tired so they took refuge in an echo canyon. Molly was passing by the canyon where she heard some noises coming from it. She thought someone might be trapped inside and may be needing help. She went inside but to her surprise it was a gang of robbers. They caught her. Soon Packy came following her. He tried to save molly but was captured and tied too. Mole said they would kill them both after some time so they can use them as their shield if someone else comes behind them. They were right; Steve came to find molly and Packy. They tried to shoot him but he managed to take refuge behind a rock. Mole said him to leave the place and never come back again if he wants the two people to be alive. Steve followed their advice and went away. Fortunately he heard them talking about killing molly and Packy. Steve ran towards sundown valley and transformed into straight arrow. Then he quietly came back and signaled Packy. Packy understood the signal and kicked one of the robbers. This grasped the attention of other people and straight arrow emerged. Straight arrow bravely fought with mole and his gang. Molly also helped him. They defeated the gang and sent them to jail.
Straight Arrow- Death to Steve Adams
Characters
Steve Adams: owner of broken bow ranch/ straight arrow
Packy: sidekick of straight arrow
Mesquite Molly: housekeeper of Steve Adams
Greg: son of
Sheriff: policeman
Anders Jones: buyer of broken bow ranch
Steve Adams found his things missing. He was confused who would have stolen them. One day some masked riders shot Greg. Greg's father came and caught Steve Adams. He claimed that Steve had shot his son as Steve's possessions were found near Greg's body. Also the Broncs in Steve's ranch were covered with red clay that is present on his ranch only. Steve was sent to jail and sentenced to death. He tried to escape but failed. Packy also tried to save Steve but was caught and put in jail with Steve. The next day, Steve and Packy were taken to hang them to death. Suddenly the masked men came and saved both men claiming Steve to be their boss. Steve and Packy escaped but still were puzzled. Steve knew the masked men did this to trap him and make doubts of people seem true. Steve transformed into straight arrow so no one could recognize him. He went to his broken bow ranch which was later sold to Anders Jones at cheap price. Straight arrow found no clue except for a short saddle. He realized that one of the men from this gang is a short man. Soon he found Anders Jones to be that short man. He followed him and reached sundown valley where the masked men were raiding at night. He went after them but they ran away as soon as they came to know straight arrow is approaching them. (To be continued)