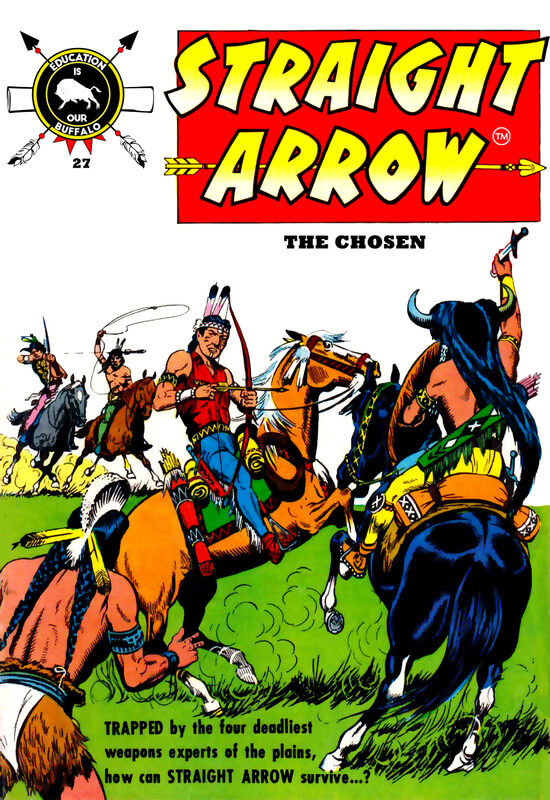 Straight Arrow 27
Straight Arrow- Arrows of Justice
Characters
Steve Adams: owner of broken bow ranch/ straight arrow
Packy: sidekick of straight arrow
Ben Hibbs, Ferd Packard, Jim Logan: ranchers in sundown valley
John Emerson: white man
(Continued) Now Straight arrow and Steve Adams were both were blamed for being rustlers and robbers. Straight arrow had to prove himself and Steve Adams (himself) innocent. He followed the fire brand and listened to them carefully. He heard they were going to raid john Emerson's ranch at sundown valley. Straight arrow hurried to John's ranch and flew his arrow with a warning note into his house. John Emerson got alert. In the same way Straight arrow warned other ranchers too. When fire brand went to raid the ranch, all the ranchers attacked them. Straight arrow helped the ranchers defeating them and proved his innocence to them. Ranchers were glad he saved their ranch by warning them and apologised him for doubting him. They wished Steve also prove him innocent in the same way. Straight arrow took a little help from Comanche and later transformed into Steve Adams. The Comanche signalled Steve Adams and he came to know about the hideout of fire brands. Steve Adams went to ranchers and told them he would guide them to the hideout of real rustlers to prove his innocence. He took them to canyon. Fore brand was expecting their arrival and they had made a trap for them. Fortunately Steve recognized the trap and saved ranchers from getting trapped. Then they caught the rustlers for taking them to jail and proving both straight arrow and Steve Adams as innocent.
Straight Arrow-The Four Horsemen of Hate
Characters
Straight arrow: Steve Adams
Longbow: Arikaree warrior
Frozen wolf: Kiowa warrior
Kioba: Lipan warrior
Bent dog: Cheyenne warrior
Chatzak ika: medicine man
Four competent warriors from four different tribes set off on a journey to kill straight arrow. First of all long bow aims his arrow on straight arrow but before he could strike him, straight arrow's golden arrow breaks long bow's arrow bow. Later on bent dog finds straight arrow and asks him to get off the horse so he could kill him. Straight arrow wrestled him using his tricks and finally defeated him. He wanted to know why warriors are attacking him one after the other so he went to bring water for bent dog to help him revive. While filling water, straight arrow saw reflection of Kioba. He threw his knife into the bee hive near Kioba. Kioba thought straight arrow had missed his target but soon he realized he was wrong. The honey bees attacked helpless Kioba. When straight arrow went back to bent dog, he was not present there. Suddenly a noose caught straight arrow but with the help of his weight he freed himself and took a good revenge from frozen wolf. Frozen wolf told him they want to kill straight arrow so they can easily attack Comanche. When all four were defeated badly, they decided to attack straight arrow together so he won't be able to escape. Hence they all went to a spot where they could easily get straight arrow. Bent dog jumped over straight arrow to kill him. At the same time Kioba threw his knife towards straight arrow, who managed to make bent his shield and protected himself. Then straight arrow freed him from the noose thrown by frozen wolf. Using the same noose he caught Kioba, long bow and frozen wolf. He took them to Comanche village. Everyone laughed at them. Straight arrow taught them to fight for love not for hate.
Straight Arrow-The Manhood of Takona
Characters
Straight Arrow: Steve Adams
Takona: Pima
Deer Hunter: bully
Spotted eagle: chief
Swift foot: daughter of walks heavy
Takona was an adopted Pima who was poor in horse riding and hunting. He loved the sand. He was always bullied by deer bunter but straight arrow always saved him. One day Takona decided to make a garden of his own. He went far away from the village and planted seeds in sand. Deer Hunter saw him and tried to destroy his garden. Again, straight arrow came and rescued Takona and his garden. Takona's garden grew very well in some months. Unfortunately famine had hit Comanche village. People and children were hungry. When the chief saw Takona and straight arrow walking upright and not feeling any hunger, he asked them how it is possible. Takona and straight arrow told him about Takona's garden which has alot of tasty vegetables to eat. Chief visited and tasted those eatables. He liked them so much that he asked more of them for the villagers. Takona's garden fed all the Comanche people in the hour of need. He became hero of the village. Swift foot and Takona fell in love with each other which made deer hunter jealous. He attacked takona but again, straight arrow saved him. Deer hunter had a plan. He did friendship with takona and while straight arrow was away, he destroyed Takona's garden. This made takona angry but he didn't fight with deer hunter. This made swift foot angry. She said takona is a coward. Takona went furious. He challenged deer hunter to fight him. They both started fight. Soon straight arrow arrived but this time he couldn't help takona since he himself had challenged deer hunter. Yet Straight arrow had another idea. He made beer using the herbs from Takona's garden. He gave it to takona who drank it. It caused pain to him and due to it he became angry. He drew all his anger on deer hunter during fight. He fought so well that deer hunter gave up and begged for his life.