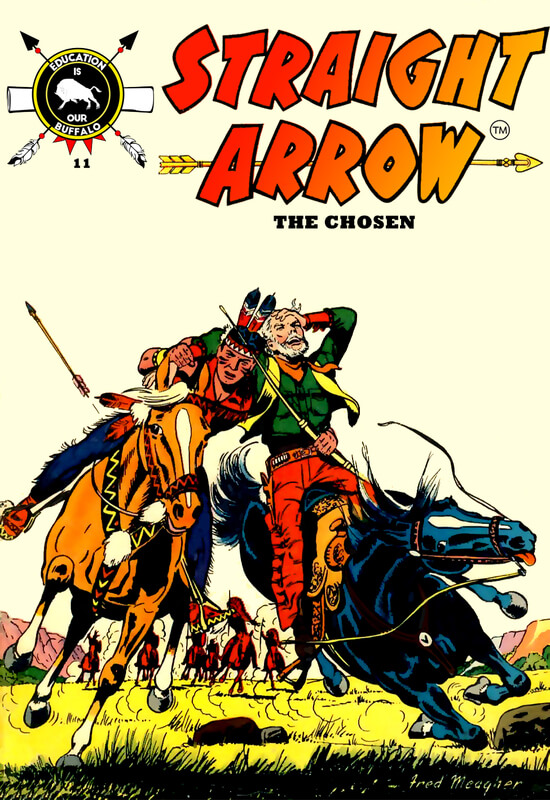 Straight Arrow 11
Straight Arrow- The Valley of Time
Characters
Steve Adams: owner of the broken bow ranch/straight arrow
Packy: Steve's sidekick/ close associate
Wama: servant
Anazuda: chief
Navalaya: tribe
Straight arrow and Packy were going to explore the no pass mountain to find a new hideout for straight arrow. While they were on their way, someone aimed an arrow on Packy. Packy was not harmed. Straight arrow took that arrow and found out it had stones on it and such a type of arrow was not used by Comanche since years. Straight arrow and Packy set of to find the secret of no pass mountain. They found a secret tunnel which lead to the secret city of Navalaya. Straight arrow and Packy were exploring they place when they saw some people trying to execute a woman for disobeying Wama. They were about to throw her down among tigers but straight arrow hurriedly saved her. The Navalaya took straight arrow and Packy to their chief Anazuda for this misconduct. Chief Anazuda seemed to be a kind person, the Navalaya kept on saying him to kill these two men but he spared their lives on a condition that straight arrow and Packy will keep their secret and won't betray them. Chief Anazuda treated them kindly and permitted them to live in Navalaya for as long as they want to. Meanwhile Wama and his companions were planning to kill chief Wama and take his place. They made a plan to finish straight arrow and Packy so they won't crate hurdles in their way of killing chief. They called straight arrow and Packy in the place where all the treasures of chief were kept. As soon as they went there, Wama and his men started shouting that they are stealing chief's treasures. When the chief saw this, he felt sad and ordered Wama to do whatever he wants to do with those men. Wama ordered to kill both men next morning, thinking this would distract Navalaya and they can easily kill chief to take his place. Straight arrow heard all their planning and the next day he escaped from the place of execution with Packy. He told chief everything and followed Wama to get him, but Wama got trapped in his own trick. He fell among the tigers accidently. The chief felt sorry as he got tricked easily. He ordered straight arrow and Packy to stay with them and help them rule Navalaya but they said they belong to the other side of valley and will definitely come to visit them again.
Straight Arrow-The Salt War
Characters
Steve Adams: owner of the broken bow ranch/straight arrow
Packy: Steve's sidekick/ close associate
Red cloud: Comanche chief
Lard Nevins: betrayer
Steve Adams and Packy took their herds of cattle to salt lick but it was barred. Steve and Packy were confused as they knew it belongs to Comanche and they freely share it with white men. Thinking this, both of them started clearing the way by lifting logs and putting them aside. Soon some men came followed by Lard Nevins who told he has signed a treaty with red cloud and now this land belongs to him. Steve Adams went to the Comanche village as straight arrow and asked red cloud if it was true. Red cloud told him he had signed treaty with Nevins according to which the land beings to Nevins but Comanche can freely take their herds to salt lick and white men will be charged a very little sum of money. Straight arrow told him that Nevins has betrayed red cloud; he won't allow anyone to use that salt lick. Red cloud and straight arrow went to ask Nevins about this all. Nevins agreed that he had betrayed red cloud by saying something else and writing something else on the treaty. This made red cloud angry, he wished to kill Nevins but straight arrow stopped him and took him back to Comanche village. He asked red cloud about the original papers of the land. Red cloud told him they are in Noyikas. Straight arrow asked him to send a rider to bring those papers; only those papers can save them and their cattle. On the other hand Nevins was offering a huge sum of money to people for taking their herds to salt lick. When people got worried about their cattle, he asked them to sale them to him. The cattle owners were about to sale their cattle herds when straight arrow arrived and stopped them. He told everyone how Nevins had betrayed red cloud and taken over the salt lick. Straight arrow told people to wait for some time for the Original papers of land to elicit any confusion. The people agreed. Nevins became worried. Nevins tried to stop Comanche from bringing those papers but straight arrow brought them himself and read it aloud to everyone that this land cannot be sold to anyone ever hence it still belongs to Comanche and is free for use. But Nevins was still no willing to get away from the land. Straight arrow had an idea. Wind was blowing. He allowed cattle herds to taste some salt which he brought from salt lick. Then when they smelled salt, they rushed towards the salt lick to have more of it. Nevins and his men drew back themselves and now everyone could easily use the salt lick anytime.
Straight Arrow-Ghost Gang
Characters
Steve Adams: owner of the broken bow ranch/straight arrow
Packy: Steve's sidekick/ close associate
The hook: brutal powerful rider of a gang
Sheriff: police man
The hook gang was a gang of masked people who looted stages. One day they attacked and looted a stage, one of the guards tried to follow them but the hook and his gang vanished. The guard went to sheriff and told him everything. Sheriff made a plan to capture those men if they are not real ghosts. Steve and Packy were listening this all too. Steve told Packy to tell sheriff the straight arrow will be there to help him. Next day Steve transformed into straight arrow and went to sheriff and his army. Sheriff assigned him a task to guard at red rock hill. Suddenly the ghost gang appeared from somewhere to loot another party. One of the men tried to follow the hook but he was captured and kept in a sealed compartment located in ghost gang's hideout. Straight arrow and Packy also true tried to follow them when they were firing but they failed as shooting ceased and gang vanished somewhere. Sheriff and his team got scared and ran way. Straight arrow had an idea. He said to Packy that he will wait for the hook and his gang to get him and take him to their hideout. Meanwhile Packy was supposed to follow them and guide sheriff and his army to that hideout. Although Packy didn't like this plan as it was too risky but he agreed to it. Soon the hook and his gang came and took straight arrow with them to their hideout which was a hidden cave behind a huge rock. They told straight arrow they will leave him here and ride to another place. They put straight arrow into the sealed compartment where already a man was present. He was so scared. Straight arrow managed to escape from that cave by burning a fuse and doing an explosion. Packy came with sheriff and US army. Straight arrow guided them to the path which hook and his gang were going. Soon they caught the gang and the hook too.