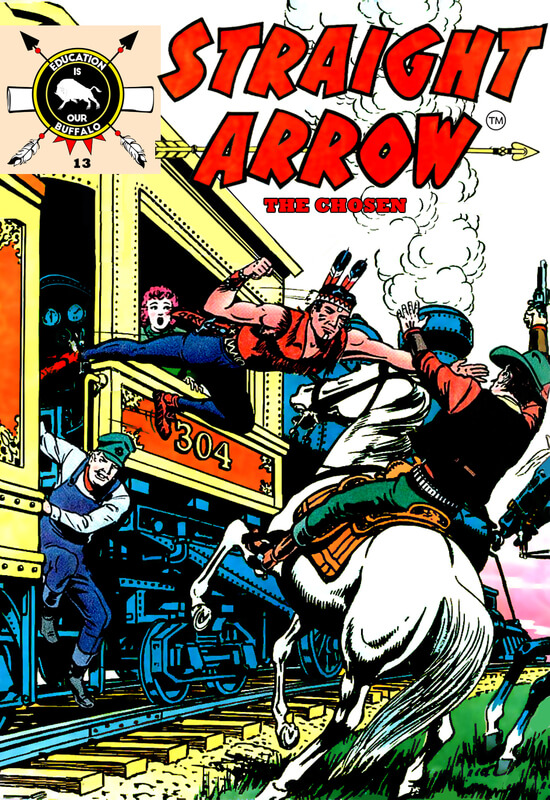 Straight Arrow 13
Straight Arrow-The Conquistadors Return
Characters
Steve Adams: owner of the broken bow ranch/straight arrow
Packy: Steve's sidekick/ close associate
Janet Blaine: white man
Red cloud: chief of Comanche
Pedro Ruales: last survivor of the slave revolt
Hank: white man who was pretending to be conquistadors
Steve and Packy were moving about and exploring the lost prairie when they heard sounds of gunshot. Steve and Packy ran to the place where gun shots were coming from. They found a girl trapped among some warriors. Steve reduced the girl. Janet, the girl, told him that she was searching for the ancient fort of conquistadors who used to enslave braves to dig gold from the gold mines. Steve was surprised to know this as he hadn't listened of any of the ancient fort. The girl showed him the gold saddle of conquistadors too but Steve advised her to stay away from this place as some people don't like her being here. After sending her towards town, Steve and Packy moved towards the Comanche village. Steve noticed that the braves of Comanche were missing. He asked from the chief red cloud but he didn't tell him anything as he was afraid. Steve thought they might tell straight arrow about it. Hence he went to the sundown valley to transform into straight arrow. Then he went again to red cloud. Red cloud told him that the conquistadors had returned and taken Comanche braves to work in their gold mine. Straight arrow was surprised to hear it. He told Packy everything and moved to the place where they met Janet. When they reached there, somebody started firing on them. When straight arrow and Packy stepped forward to see, it was Janet. She told them she had found the castle on the other side of the mountain. They all went to see it. Straight arrow could see his Comanche fellows working there. When he asked them to free themselves, they said they were afraid of the results of they resisted before conquistadors. Straight arrow came back. Janet and Packy showed him a Note written by the last survivor of slave revolt. According to that note Comanche had dig a cave and a war between two parties finished them both. It meant that the present conquistadors are not real. Straight arrow, Packy and Janet followed the instructions of Pedro, written on the stone and found the cave. Straight arrow went inside and heard the men talking about their intentions to get gold by pretending to be conquistadors. The next day straight arrow went to enslaved Comanche and told them everything. He helped them rescue and defeated the fake conquistadors with the help of Comanche braves.
Straight Arrow- Treachery's Banner
Characters
Steve Adams: owner of the broken bow ranch/straight arrow
Packy: Steve's sidekick/ close associate
Jud Kelton: thief
Myra: colonel's daughter
Jud Kelton, a thief, was roaming about in search of the schedule of trains, at colonel's office, when Myra, colonel's daughter came and caught him. Just Kelton started to flirt with her to distract her. Steve came in the office and rescued Myra. Soon colonel also arrived, asked Kelton to leave and then left with Steve and Myra for the party. Kelton was angry for getting this kind of treatment. He made a plan. He kidnapped Myra and left feathers which Comanche uses, in the room. This made colonel think that red skins have kidnapped his daughter. He ordered to arrange an army and attack the red skins. Steve was there too. He heard everything. He knew Comanche haven't done this. Hence to save his people, and prevent a war between white men and Comanche, he went to find the real scoundrels as straight arrow. On the other hand, Kelton was very happy as he knew he had diverted the US army and now he can easily loot the coming train full of passengers. When they left their hideout, Myra escaped from that place. She went to the railway to warn the passengers but she fainted there. Fortunately straight arrow was her and rescued her by getting on the train. He brought him in the cabin. Suddenly the train stopped with a jerk. It was Kelton and his men, they had trapped them. Straight arrow had an idea. He pulled the steam valve and caught the thieves. Colonel and his army was about to attack the Comanche but Myra reached on time and told him that it was Kelton who had done it all. Straight arrow brought the culprits to colonel and once again he stopped a war to occur.
Straight Arrow- The Revenge of the Mountain Spirit
Characters
Steve Adams: owner of the broken bow ranch/straight arrow
Tauquitz: spirit on mountain
Some men were talking about exploring the mountain to get gold ores from there. They knew that no one dares to go to that mountain as people think that a spirit named Tauquitz live there. One of the men was a geologist; he told that the voices mountain makes it due to its movement. It's still changing its shape. The men hunted some buffaloes to take it with them as food on the mountain. Comanche saw them moving about their lands and hunting buffaloes. When the Comanche asked them to leave their lands, the men attacked them. Straight arrow reached in time and saved the Comanche. He kicked those men out of their land. At night the men again rode on their horses and went towards the mountain. As soon as they reached it, an earth quake came. The Comanche came to the mountain on hearing the growling sounds and asked why Tauquitz is crying, what had happened. One of the men pretended to be Tauquitz and told the people they haven't sacrificed anyone for this mountain since years, they have forsaking the ways of their forefathers hence they should leave this land now, forever. The Comanche felt sad for it and packed their luggage for fulfill this punishment. When straight arrow asked them where they were going, Comanche told him about the punishment Tauquitz had given them. Straight arrow knew Comanche were superstitious hence he asked them to stay; he himself will sacrifice his life for them. Straight arrow went to the mountain and searched for the footprints of those men. Suddenly some people pushed him down. Straight arrow fell into the cold water. He was wondering how he would get out of this place the eventually gold rock began to move up. The earth split and straight arrow went up the mountain. He attacked those men. The earth shake again, split, the men fell down into it and the two parts came together again. Fortunately straight arrow was safe. It seemed as if the earth had eaten those men. The smoke from the mountain signaled the Comanche but the sacrifice of straight arrow had been accepted and now they can live in this land.