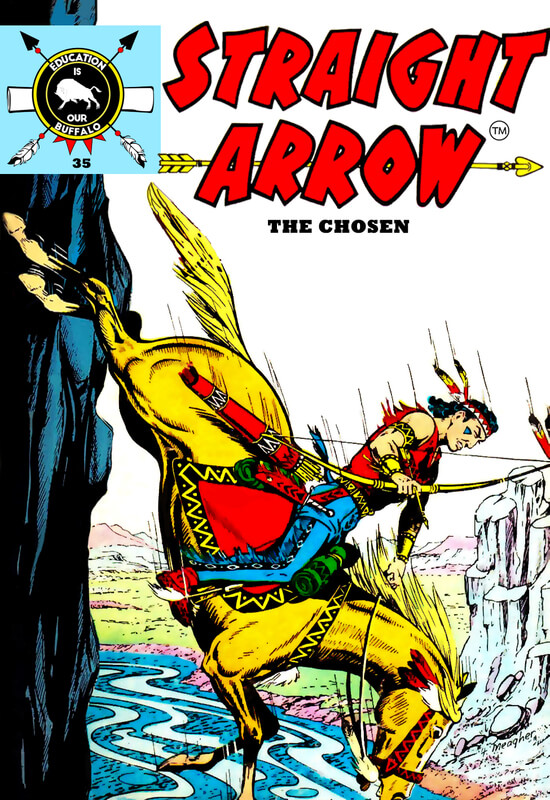 Straight Arrow 35
Straight arrow-Outlaw Death: Warrant!
Characters
Steve Adams: owner of the broken bow ranch/ straight arrow
Packy: sidekick of straight arrow
The fawn: Comanche girl
Four outlaws tried to raid Steve Adam's stage but failed. Steve got two of them and handed over to sheriff to put them in jail. Unfortunately the other two partners of the gang made the prisoners escape. They four planned to kill Steve Adams but all their efforts were useless. Then one of them had an idea. They decided to kidnap the fawn and blackmail straight arrow to kill Steve Adams if he wants the fawn back alive. When they did this, straight arrow had no way other than to kill Steve. He took help from Packy, who posed as Steve meanwhile straight arrow shot him a bullet. Steve (actually Packy) pretended to die. The outlaws became happy and set the fawn free. The fawn was angry on hearing that straight arrow had killed somebody to save her. She told him the outlaws were going to rob the saw tooth junction bank. Straight arrow went back to town as Steve Adams and got the outlaws red handed at the bank. The outlaws were surprised to see Steve alive. Sheriff put them all in jail.
Straight Arrow- The Savage Student
Characters
Steve Adams: owner of the broken bow ranch/ straight arrow
Packy: sidekick of straight arrow
Tioga: young Comanche
Jim, Jeb Cameron: students
Miss Evans: teacher
Clem Cameron: father of Jim and Jeb
Bart and Jeb: outlaws
Straight arrow sent Tioga with Packy to Steve Adams so Tioga could go to school and get knowledge. Tioga was not happy to attend school. He didn't understand the knowledge in books. Jim and Jeb, the two twins very really good in studies, they made Tioga feel he knows nothing. One day some outlaws came to take Jim and Jeb with them because they were having an issue with the father of those twins. Everyone was frightened but only Tioga tried to set the two free. The outlaws got angry and took him along them too. Miss Evans informed it to straight arrow as soon as she could. Straight arrow told her he would go after them meanwhile she must go and tell Clem Cameron and sheriff about it. On the other hand clever Tioga made a trail for straight arrow to follow. When they stopped at a place, the Cameron twins asked him why he was doing all these silly things. Tioga told them he had made a trail for straight arrow to follow so he could come and save them. The outlaws heard it all and were offended. They tied all three kids among the smoke which had caused by Tioga's attempt of throwing herbs in cooking pot. They made a trap for straight arrow and hid behind the rocks. Tioga quickly untied his rope by burning it from fire beside him. Then he screamed and warned straight arrow about the trap. Straight arrow heard it on time and caught the outlaws. He sent them to jail and the three kids were safe now. From this day onwards all the students were very impressed by Tioga and his bravery. He asked him to teach them Indian tricks. Tioga became very happy and agreed. He said he would teach them Indian tricks and learn paleface knowledge from them. Miss Evans was also very happy with Tioga's progress in studies.
Straight Arrow-Date with Death
Characters
Steve Adams: owner of the broken bow ranch/ straight arrow
Packy: sidekick of straight arrow
Jud hail: outlaw
Doc mason: Doctor
Frank Bradley: fastest shooter
Red: Bradley's man
Jud hail was a gambler who was angry at doc mason for deceiving him. He wanted to kill him before doc mason told him a secret of frank Bradley. Doc mason told him he could take over the lands of Bradley as he is no more a good shooter now and cannot defeat him. Bradley had got a hole in his hand due to a bullet that went into his hand and this made him a slow shooter. Jud became happy and let doc mason go for he told him a good piece of information. The next day Jud went into town, threatened and laughed at Bradley. Bradley didn't say a word and went away. His friends were surprised why he didn't shoot him. Next day Jud burned the barn of Bradley. Still Bradley didn't do anything. Bradley was much tensed, he decided to write to Jud and meet him for a date with death. Bradley was wandering here and there. He stopped to drink water from the stream but fell into it and got hurt. Straight arrow saw him and saved him. He heard him murmur about him and coming day, in his unconsciousness. Straight arrow wore Bradley's clothes and hat. He went to fight with Jud at his place as Bradley. Seeing his shoot so swiftly, Jud and his men were amazed. When straight arrow went back to Bradley, Jud's men also followed him. They wished to kill Bradley but suddenly Bradley's friends arrived and made Jud and his fellows run away. They were still proud of Bradley's bravery and shooting skills. Bradley was grateful to straight arrow for keeping his pride.