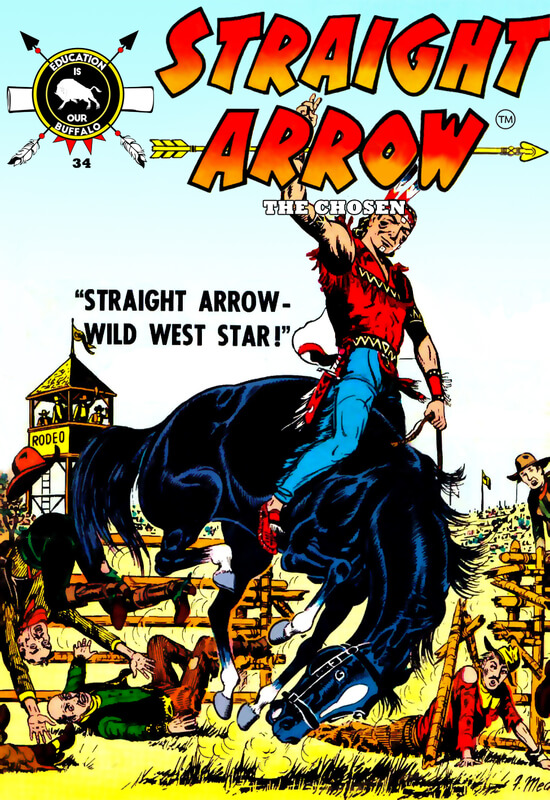 Straight Arrow 34
Straight Arrow- The Madman's Empire
Characters
Steve Adams: owner of the broken bow ranch/ straight arrow
Packy: sidekick of straight arrow
Baron Eric: Gebonia inhabitant
Pow-tiki: daughter of Comanche chief
Baron Eric for Gebonia considered him a very high class man. He was very rich. He came to the town and used his riches to build a castle for himself. He appointed his own army and kidnapped Pow-tiki to marry her. When Comanche chief went to sheriff and told him about it all, sheriff said he would go himself to that man to fix the issue. Soon Steve Adams arrived and claimed he would go and bring Pow-tiki back. When Steve went into the castle he was amazed to see all the set up and army. He met baron and told him to set Pow-tiki free. Baron got angry and ordered his men to take Steve to torture chamber. Steve ran away from the castle. He transformed into straight arrow and guided the Comanche warriors into the castle. The Comanche warriors fought with baron's army while straight arrow fought with baron who led him to the tower where Pow-tiki was kept. When straight arrow defeated him and asked him to give up, baron jumped down from the tower, he was really a mad man. Straight arrow set Pow-tiki free and sheriff decided to make this castle a museum.
Straight Arrow- The River Robbers
Characters
Steve Adams: owner of the broken bow ranch/ straight arrow
Packy: sidekick of straight arrow
Notches Boone: trained killer
Ransom: outlaw
Notches tried to kill Steve Adams on the command of ransom. Fortunately Steve got gun shot in his arm only and was alive. One day he heard Packy talking about loot with no clues of bandits. Steve Adams went to the place himself and tried to find hoof prints. Suddenly he heard the sounds of horses' hoofs. He saw the bandits coming with loot and getting on a huge boat in river. Now Steve got their plan. Actually ransom wanted to buy that river for escaping every time they rob. They wanted to kill Steve so they could force molly and Packy to sell the river to them. Steve Adams heard them talk about their next robbery in el Camino bank. He went to sheriff as straight arrow and told him everything. They both went to the bank and caught those bandits red handed. Unfortunately one of them shot straight arrow on his arm and escaped. Straight arrow told sheriff it's fine and they would get them at ransom's ranch. Soon they both reached ransom's place and caught those bandits. Sheriff was surprised what a coincidence that Steve and straight arrow got bullet on same place by two different shooters. Straight arrow smiled as only he knew the truth. He was glad his secret remained unrevealed.
Straight Arrow-Wild West Star
Characters
Steve Adams: owner of the broken bow ranch/ straight arrow
Packy: sidekick of straight arrow
Ella peters: white girl who bought Steve's mountain
Forrest: outlaw
Ed: outlaw
It was hard time on ranchers. Steve was out of money and failed to irrigate and buy good graze for his herd. Packy sold Steve's sundown valley mountain to Ella Peters to get a sum of money. This made Steve angry and even more worried. Steve went wondering what he would do next. Packy got an invitation for a show where straight arrow can win a good sum of money. Steve had to avail this opportunity for the sake of his herds. He went to the show organized by Forrest and played really well. As soon as he left sun down, a group of bandits started robbing gold and money from sundown. Straight arrow received a letter from Packy in which he was told about these robberies and murders. Straight arrow got worried. Later on he saw some tired horses with red clay on their legs. Soon he read news which confirmed him that these are the same horses who are taken by bandits to sundown valley for stealing. Straight arrow told this to Forrest as well but he threatened him he won't get money if he left the game. Straight arrow was confused but soon he decided to go after the bandits. He caught them red handed and ran after them to get them. He saw the shadow of Forrest who was trying to kill him. Straight arrow caught him and sent him behind the bars. Om the other hand, he received money for winning the games. With this money he bought his mountain back from Ella.