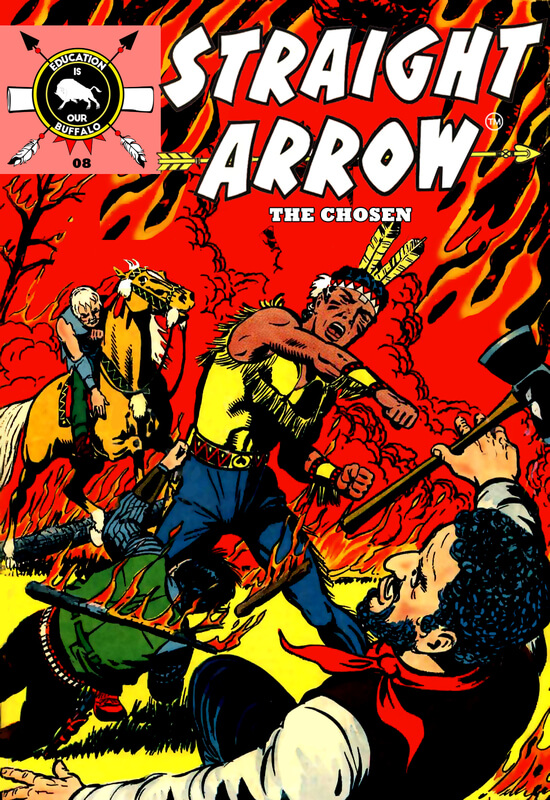 Straight Arrow 8
Straight Arrow-The Flaming Trail!
Characters
Steve Adams: Owner of cattle farm, straight arrow
Packy: Steve's close associate
Old Whitey Nye: owner of lumber camp
Luke: thief
Old whitey Ney was loading logs to deliver it to Steve Adams but suddenly Luke and his people came and hit him. They asked him to sign the papers and give them all his property including lumber camp, machinery etc. Whitey refused to sign the papers he claimed that his friend Steve Adams will come to save him as soon as he knows about this. Luke tied whitey and kept saying him to sign the papers. On the other hand Steve thought something's wrong as whitey hasn't delivered the order yet. He went to find him when Luke's men attacked him. Steve was safe but he knew some kind of danger is waiting for him so he went to sundown valley and transformed into straight arrow. Then he continued his journey to whitey s place. When he reached there he saw from his telescope that whitey was tied up and there were lots of men guarding him. Straight arrow managed to get whitey and they both escaped. When Luke came to know about this he asked his men to set fire in trees, the fire will spread soon as it is windy, and they both will die. His men did the same. Straight arrow whitey and fury were all caught in fire. Straight arrow had an idea; he escaped from fire by burning a little piece of glass land to keep them all alive. When Luke came to know about it, he started firing with gun but straight arrow caught them and saved whitey along with his property.
Four against The 7th
Four Cheyenne braves cut down general cluster and his command to ribbons in June 1876. The Cheyenne and Sioux both participated in war. General cluster along with Reno planned to crush the Sioux. But the 4 Cheyenne planned to delay their entry to prevent the war. When general cluster and his army reached there and found no one they thought Sioux has waited for them for so long. They started firing in happiness. Soon the 4 Cheyenne braves and Sioux arrived on their horses, passed across the fort and over the army of cluster.
Straight Arrow-Robbery Rides the Rails
Characters
Steve Adams: Owner of cattle farm, straight arrow
Packy: Steve's close associate
Dawson: thief
Runt, Pete, Sam: Dawson's men
Joe: mail train worker
Dawson was a thief who was planning a robbery with his gang. He ordered runt and Pete to fit dynamite on railway track to catch the train and get $50 000 from it. They were doing their job unaware that Packy and Steve are looking them. As soon as they were done with their job, Steve went and detached the dynamite from railway track. When Dawson and his men saw they started firing but Packy and Steve managed to escape from there. Steve asked Packy to take care of these people while he went to the village to ask about mail train. Joe told him that the mail train is arriving and Dawson and his men are trying to get. Steve on listening this ran to sundown valley and transformed into straight arrow. He reached the camp of these gangsters, caught them and asked where their other gang members were. Straight arrow reached the mail train and caught the thieves who had already stolen the gold and were now planning to escape. Straight arrow saved the gold. Everyone was grateful to him for this kind piece of act.
The Rhyming Robber!
Black Bart, who called himself 'the poet', was the most famous bandit among the rhyming robbers. He did first robbery in 1895. He used to wear a sack on his face and after he's done the robbery he used to give a poem. He did it for 8 years. He staged 28 holdups and robbed many thousands of dollars. He was caught by his handkerchief in San Francisco. His real name was Charles E Bolton. He was a school teacher.
Straight Arrow-Fang-Hound of Terror
Characters
Steve Adams: Owner of cattle farm, straight arrow
Packy: Steve's close associate
Slash Jenkins: thief
Fang: slash's dog
Jimmy: a kid
Slash Jenkins was a thief who had his gang and a trained dog, fang. These helped him in robbing people and stages until Steve Adams found them and caught them as straight arrow. He handed them over to sheriff who put them in jail. In fighting straight arrow won the heart of fang by helping him recover from wounds on his leg. Fang became a good friend of straight arrow. Straight arrow often took him to sundown valley with him. One day when fangs leg healed fully, he ran out for some exercise. He went to the place where his previous master left him and straight arrow adopted him. It was difficult for him to choose between his two masters. Finally he made a decision and reached to his master in jail by sensing his scent. He freed slash and his companions who were very happy to escape. Sheriff told everything to Steve. Steve was afraid fang will lead them to sundown valley and fury will be in danger. So he hurried to sundown valley, transformed into straight arrow and went to slush. There slash and his fellows attacked straight arrow. They ordered fang to attack straight arrow. Fang leaped onto straight arrow that suddenly rocks from the mountain began to fall. Slash moved backwards to save him. When he woke up he saw fang growling. He asked him to keep silent that suddenly he leaped over him. He had chosen straight arrow to be his master. Straight arrow was happy for it. He handed over them to sheriff to take them to jail and took fang to Jimmy. Jimmy was very happy to have fang.