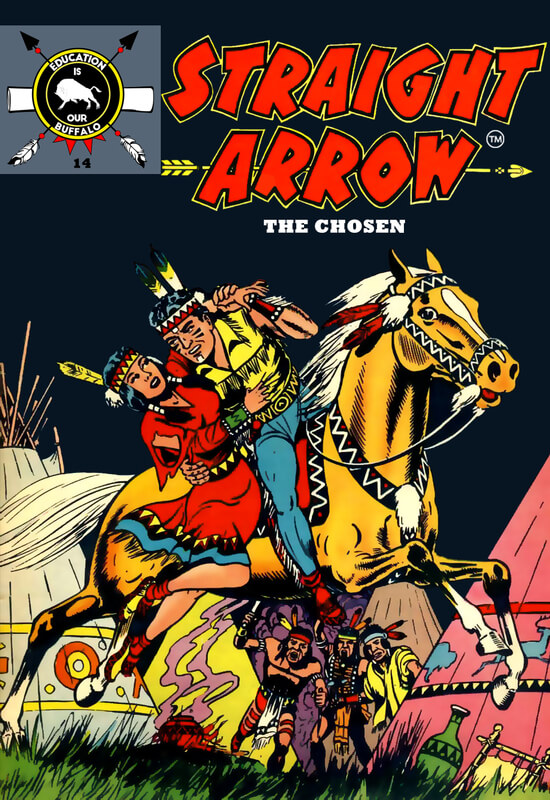 Straight Arrow 14
Straight Arrow- The Bullet Proof Badmen
Characters
Steve Adams: owner of the broken bow ranch/straight arrow
Packy: Steve's sidekick/ close associate
Whitey: stage driver
Ike Bemis: bandit
Mr. Larkin: white man, Steve's helper
Sheriff: police man
Some masked bandits were looting a stagecoach. When the men on stagecoach tried to shoot him, they failed. Steve and Packy also came from behind and shoot them. They failed too. Whitey and his fellow, the stage drivers, told Steve that they've tried to shoot them but it seemed as if they were shooting shadows, the lead gun shots didn't strike them. Steve asked both men to inform sheriff about this incidence. Meanwhile he went to the sundown valley to transform into straight arrow. Then he found the bandits robbing again. He strokes his arrow but none of them was wounded by it. Straight arrow was sure they were wearing iron armors. He had a plan. He went to the town as Steve and told Mr. Larkin to ship his two gold pouches tomorrow. Ike, the leader of bandits heard all this along with his gang members. As straight arrow thought, they came to rob that stage too. Straight arrow took the gold pouches from stage and went far away. Ike and his fellows followed him. They didn't know a string was attached on bridge. When they reached there, the horses fell due to the string and these men fell into the water. Straight arrow had caught them by his trick. Soon sheriff came and got those armored men and horses.
Straight Arrow- Fighting Peacemaker
Characters
Steve Adams: owner of the broken bow ranch/straight arrow
Packy: Steve's sidekick/ close associate
True bow: son of apache chief
Shoshone, apache, Comanche: tribes
Ma-ti-ki: daughter of Shoshone chief
Great elk: chief of Shoshone, father of ma-ti-ki
Long nose: chief of apache, father of true bow
Straight arrow wondered why apache and Shoshone were greatest enemies. He wanted to build peace among these two tribes. Hence he set off to find the truth behind this enmity, so he could bring both tribes together in peace. He found an apache on his way. That apache was true bow, the son of apache chief. When straight arrow asked him why apache and Shoshone are greatest enemies of each other, he told straight arrow that ma-ti-ki, the daughter of Shoshone chief saw him wounded in a war. She took him into a secret cave and nursed him until he was well and able to walk. They both fell in love with each other. When great elk, the father of ma-ti-ki came to know about this, he ordered to kill true bow. Ma-ti-ki helped him escape. Since then true bow was heartbroken and couldn't go back to his tribe. Straight arrow was saddened to hear true bow's story. He told him to stay here, he'll be back. Straight arrow went to Shoshone village where ma-ti-ki was being punished for helping an enemy. He freed ma-ti-ki and took her to true bow. Both of them were very happy to see each other. Then straight arrow went to apache village and aimed his arrow. When apache got to know about it, they got ready to fight with their new enemy, Comanche. Straight arrow then did the same in Shoshone village. Soon both parties came from opposite sides, following the trail of straight arrow. On seeing each other, they forgot Comanche and wished to fight each other. But straight arrow remembered them; he again aimed his arrow between them. Apache chief got united with Shoshone chief and decided to fight Comanche together. Straight arrow tricked and brought the chiefs of both tribes in a cave. Then he closed the opening of cave. He told them that he is only one Comanche here, who is their friend not enemy. He told them if they could get United to fight their common enemy them why can't they got United for ever, just as true bow and ma-ti-ki have decided to stay together with love. This words of straight arrow affected chiefs of both tribes. They decided to live peacefully and make their children the sign of peace.
Straight Arrow-Buffalo Killers
Characters
Steve Adams: owner of the broken bow ranch/straight arrow
Packy: Steve's sidekick/ close associate
Red cloud: Comanche chief
The buffalo hunters were hunting the buffaloes of Comanche to sale them in high prices. Comanche were angry and afraid at the same time because these buffaloes were the only source of living for them. They called for a war. When Steve and Packy saw this, he stopped red cloud and asked him for a little time to settle the matter with white men. When Steve and got the village he learned that there is no way to stop those men from hunting the buffaloes. Hence he transformed into straight arrow and guided Comanche to take their buffaloes to a hideout. The hunters found the hideout by following the trail. Straight arrow and Red cloud were going to them, to solve the matter but they aimed their guns at them and wounded red cloud. Straight arrow took red cloud back to the hideout. As red cloud was wounded, he couldn't lead his people. He asked straight arrow to lead them. Straight arrow had an idea. He took five braves and hid behind rocks. He was waiting for the hunters to come nearer so they can attack but one of the Comanche warrior spoke out loud and hunters became alert. They started firing. Straight arrow rushed towards the buffalo herds and made them run towards the hunters. Then he ordered the Comanche warriors to attack the hunters when they get distracted by the buffaloes. As straight arrow had planned, the hunters, on seeing the buffaloes were distracted. They leaned forward to hunt them but straight arrow and Comanche warriors came and caught them. The leader of hunting group was lying on the ground. He could see a wounded buffalo running towards him. He shouted for help. Straight arrow calmed down the buffalo and asked it to bend down. The man was glad straight arrow had saved his life. He promised that neither he nor his other fellows will ever hunt the Comanche buffaloes. They'll live in peace.