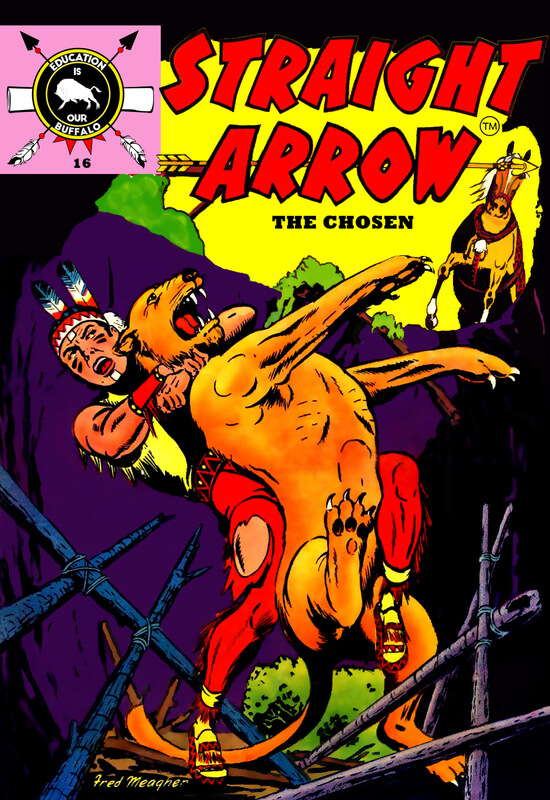 Straight Arrow 16
The Magic Medicine Man
Characters
Straight arrow: owner of broken bow ranch/ Steve Adams
Harley Davis: river gambler and amateur magician
Shaidata: the son of the water spirits
Lipan, Osages, Comanche, Kiowa: tribes
Sitting dog: Comanche warrior
Mesquite Molly: house keeper
Harley Davis was a magician who used his magic tricks to build a place for him in the hearts of Lipan people. He showed his magic tricks like burning wood and eating cooked meat out of it, and by swallowing fire. He impressed Lipan by his tricks in return of which they honoured him and made him their medicine man. Davis guided Lipan and Osages to fight against Kiowa and Comanche people. They attacked Comanche. Injured sitting dog's made Steve alert. He sent him to Molly to heal the wounds while he went to sundown valley and transformed into straight arrow. Then he visited Lipan village where he found Davis, a white man in the costume of medicine man. This surprised straight arrow. He told the people that this white man is just a magician. He also unveiled all the tricks of Davis but last trick of Davis left Lipan shocked and they captured straight arrow on the orders of Davis. Davis went to straight arrow with the intentions of killing him. He told him he wished to capture all the gold and become the greater ruler. He leaned forward to kill straight arrow but fortunately the rock turned, David fell down and became unconscious. Straight arrow thought of a trick. He built fire. Wakan Tanka came out of the smoke and announced to the Lipan and Osage warriors to cease the war as David is a liar. This announcement couldn't stop the Lipan and Osage warriors. They kept moving towards Comanche and Kiowa tepees. Just a few miles ahead they saw skeletons. They got scared and ran away. The skeletons were actually the people wearing paint. On the orders of straight arrow they scared Lipan and Osage and driver them out of their lands. In this way straight arrow ceased a war from happening.
Rustler's Convention
Characters
Straight arrow: owner of the broken bow ranch/ Steve Adams
Packy: side kick of Steve Adams
Big Boston: a big time crook
Boston was a big time crook. He was a rustle but when Steve Adams and packy were capturing the rustlers, Boston helped them. This made Steve and packy think that he is a good person. When Steve and packy took the captured rustler to the jail, he saw the picture of Boston in list of wanted people. The wife of sheriff told them that sheriff along with other sheriffs have done to a convention. Steve thought something is wrong. He went to sundown valley and transformed into straight arrow. He and packy then moved towards crater valley where Boston had told he was going. When they reached there, they realised that crater valley was the hideout of Boston where he had kept all the rustled cattle herds. They heard him planning about crossing the wecos and selling these cattle herds in high prices. Packy said he would inform and bring sheriffs here. Meanwhile straight arrow distracted Boston and his people so they may not follow packy. Straight arrow burnt fire which scared the cartel herds and they started moving back. This caused trouble for Boston. With alot of struggle he aligned the herds again and started to move towards wecos but it was too late. All the sheriffs had arrived crater valley and they captured Boston and his team. They were thankful to packy and straight arrow for doing a great job.
Straight Arrow-The Renegade's Oath
Characters
Straight arrow: owner of the broken bow ranch/ Steve Adams
Arapahos: tribe
Red hand: Comanche chief
Bad eye: brother of red hand/ second in-command
A wounded Comanche warrior gave the news to his people that Arapaho are going to attack them the coming day. Red hand announced everyone that they would prepare and fight tomorrow with the help of straight arrow. Bad eye was not happy with the idea of calling. Straight arrow for help because he wanted to kill red hand and become chief in his place and he knew it would be difficult in the presence of straight arrow. Hence bad eye made a trap for straight arrow. He called straight arrow and somehow made him fall in the pit where he had captured a tiger. Then bad eye went to complete this mission. Straight arrow became aware of the evil intentions of bad eye. He killed the cat and asked his trained fury to throw the rope. He came out of the pit and reached the battle field just on time. Bad eye was about to shoot red hand that straight arrow stroke an arrow and make his attempt of killing red hand unsuccessful. Then he fought with the Arapaho with Comanche warriors and made them run away. On the other hand, bad eye again made an attempt to kill red hand. This time too straight arrow saved him but was shot in his arm. Bad eye ran away but red hand was safe now.