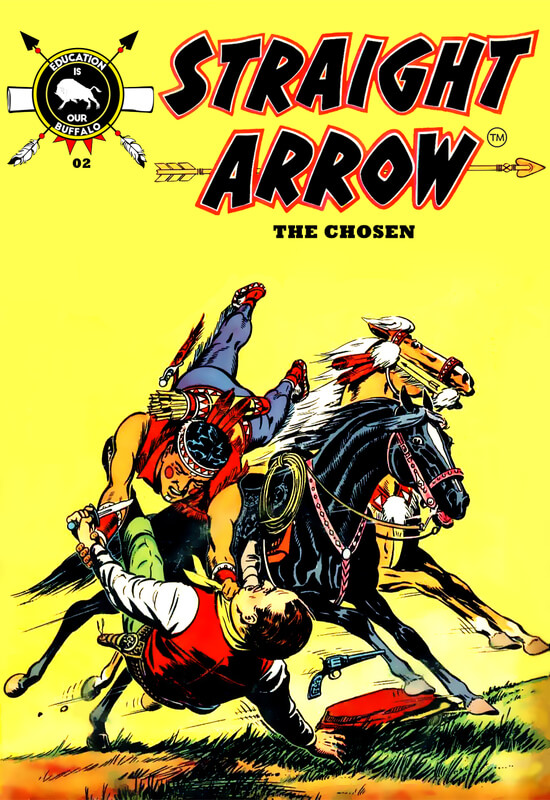 Straight Arrow 2
Straight Arrow- Tepee
Make a tripod using three poles and place it on the floor, the length of the poles determine the radius of cover. Attack more poles, make a cover with canvas or other goods and place it on the pod. Indian medicines are attached on the top of the pole. The wooden pegs and semi thick oil paint are used to pin and decorate the cover respectively.
Straight Arrow- The Peril of the Pioneers!
Characters
Steve Adams: Straight arrow
Packy: Steve's close associate
Mesquite Molly: Housekeeper
Sheriff: Policeman
Steve and Packy were talking about the difficulties they are facing due to drought when a spent bullet hit Packy. Steve and Packy ran to the place where it came from. They saw robbers escaping after looting the pioneer train but when Steve wanted to follow them, Packy got fired by bullet on his shoulders, Steve went to see him and the robbers were missed. After bandaging Packy, they tried to get any clue of where the robbers have gone but it was too late, they had vanished. Steve tried to take help of Sheriff but he refused saying that he should mind his own business. So Steve called people at his place for a meeting to help him find where they have gone. Meanwhile Sheriff comes and warns Steve to stay away from this matter. Mesquite Molly scolds sheriff for making the floor dirty with his muddy shoes. Steve got a clue here. He asked Packy to lead the posse to White Top Mountain and went to his secret cave to transform into straight arrow. Then he reached on the white top mountain and caught two of the robbers. When he discovered that their leader is down the mountain to loot anther train. Straight arrow rushes down, meanwhile Packy and the posse also reached there. They caught the robbers while straight arrow followed the leader. He soon caught Sheriff, the head of the gang. When Packy asked Steve told him that Sheriff was lying about his muddy shoes because the sand is dry due to drought. He told Packy that they can take their cattle on the White top mountain to nibble on the snow until rain comes.
Straight Arrow- Land of our Fathers!
Characters
Steve Adams: Straight arrow
Packy: Steve's close associate
White Cloud: Comanche chief
Monte: Land agent
Judge Prentice: The judge
Carson: Judge Prentice is living at this man's place
This story is about the period of destruction and death. Houses were being burnt, people were dying. The Comanche were being blamed for these crimes. Judge Prentice was called to sort out the matter and find the culprits. Steve knew that Comanche are innocent so he, along with Packy, went to judge Prentice to talk in favor of Comanche. When they reached there, they saw Monte blaming Comanche for the whole incident and telling the judge to expel them from their land. Soon the chief of Comanche, white cloud also came to prove their innocence. Monte tried to attack him but Steve saved White Cloud. Then at night, Steve transformed into straight arrow and went to Monte's place along with Packy, to hear what they are up to. They heard Monte talk about raiding in front of Carson's place, where the judge is staying, to show them Comanche are the real culprits, this they would get rid of the Comanche and get their land. Straight arrow asked Packy to follow them; meanwhile he went to Comanche and asked them to prepare themselves for a war. Then they followed the trail of Packy and reached at the place where Monte's men were dressed like Comanche and were about to raid the stage. Straight arrow and the real Comanche got them, fought with them and proved their innocence in front of the judge. Straight arrow unveiled the mean face of Monte before the judge who declared to imprison him.
Fangs of the Wild
Characters
Greysides: Buffalo
Kipi-ti: Wolf
This story is about a wounded buffalo that saved itself from becoming prey of the wolf, Kipi-ti. Greysides was an adventurous buffalo who liked exploring places. It was soon to become the leader of its herd. While the herd was going up the hill, some horsemen attacked with arrows due to which the herd got split. Greyside was wounded but he managed as he was strong. It went to explore other areas. It saw a man preparing a trap too. Then suddenly it realized a wolf was following it. Kipi-ti, the wolf seemed to be smiling at Greysides. It was aiming to make Greysides its prey as it had been so long when he fed on a buffalo. It knew that Greysides had run a long distance and couldn't escape due to tiredness. But grayscale remembered the trap. It managed to get the wolf there and finally succeeded in confining Kipi-ti in that trap.
Straight Arrow- The Death Moccasin!
Characters
Steve Adams: Straight arrow
Packy: Steve's close associate
Sheriff: Policeman
John Mutrin: Indian agent
Lint Travis: Thief/betrayer
Cliff: Mutrin's friend
A herd of remount horses was stolen. The Indian agent, John Mutrin doubt that Comanche people are behind this robbery. Steve Adams persuaded him that Comanche are innocent; they are sincere to him as they keep on giving presents to him. This time they gifted moccasins to Mutrin. While Mutrin was going somewhere, he saw a white man, Lint Travis washing Comanche paint from his face. He realized that Comanche are innocent and Travis is the real thief but before he could inform Sheriff about it, Travis shot him with his gun. Later he tried to kill Steve too, as he didn't wanted him to know he as coming from trading post. Luckily, due to darkness, he missed his target and Steve was unharmed. Soon Packy came and rescued Steve, who told him that he will pretend to be dead in front of Travis and go on this mysterious expedition as straight arrow. So he transformed into straight arrow and reached trading post, where he found wounded Mutrin. He took him to Comanche and asked them to take care of him. Meanwhile, to save himself, Travis asked Cliff to tell everyone that he was with drinking with him all night. Furthermore, Travis took sheriff to trading post, showed him blood and Comanche's moccasin; and misguided him that Comanche have attacked on Sheriff. Sheriff reached Comanche village, where Travis had already appointed white men to wear Comanche paint and do attacks. In this way sheriff will be sure that Comanche are culprits. But to their surprise, straight arrow reached their, a war was fought but soon he revealed the truth to Sheriff. Straight arrow caught Travis while he was setting off to kill Mutrin. He was imprisoned and Mutrin was saved.
Straight Arrow- Proper Camp
Select an area near fresh water. Place your tent on a low hill and your arms rack near your sleeping place. Dig a trench around your tent to enable drainage of rain water. Build flame on soil using dry leaves, twigs and so forth. Carefully secure, feed and blanket your mount. Make and use a wet broom and to brush the fire away. Keep a pail of water filled all time. Stack all the firewood at one side and; keep your fish catching string clean and secure.