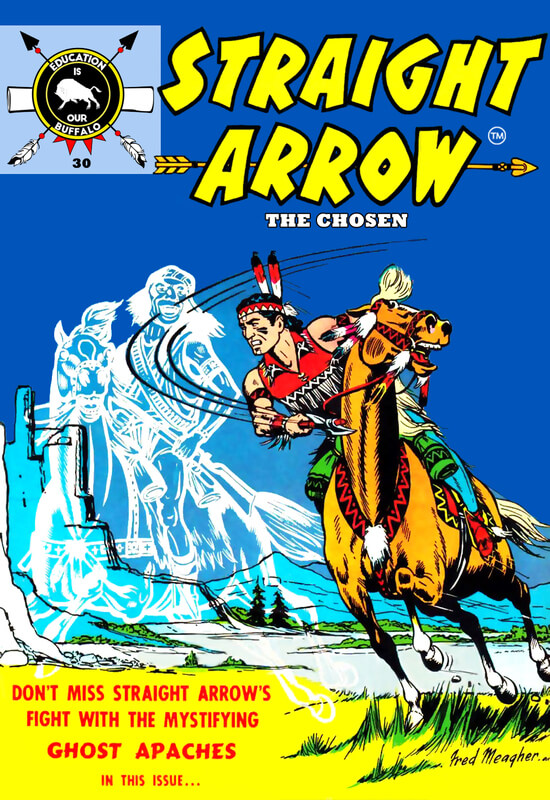 Straight arrow 30
Straight Arrow- The Ghost Apaches
Characters
Straight arrow: Steve Adams
Slotted eagle: Comanche chief
Sheriff: policeman
Deegan: colonel
Apache warriors were stealing white men's money, gold and other possessions but when people run after them to get them, they disappeared. Sheriff and colonel Deegan blamed Comanche for helping them raid. They ordered Comanche to leave this land. The Comanche knew they were innocent but they had no way other than to obey them. Meanwhile straight arrow went to find the mystery behind it. Suddenly he saw a rabbit seen half in the rock and half visible. He got the trick. Straight arrow went to Apache who were returning from a raid. The apache disappeared just as they did before but this time straight arrow wasn't surprised for he knew the trick now. The swift running of apache warriors created a mirage of them. People got distracted from it and the apache went up the hill, removing their foot prints with a hide. Thus they ride above the hill and their mirage beneath them. Straight arrow led to Comanche to apache warriors. Comanche defeated them badly as they were angry for being blamed for apache's deeds. Soon sheriff and colonel Deegan also came and apologized for their misunderstanding. Comanche settled back in their village happily.
Straight Arrow-Straight Arrow's Secret
Characters
Steve Adams: owner of broken bow ranch/ straight arrow
Packy: sidekick of straight arrow
Brandon: robber
Joe, Pete, Bill: pretending robbers
Sheriff: policeman
Straight arrow always prevented a robbery and caught the thieves. Brandon was afraid he would lose all his men if this continued. He went to sheriff and claimed that straight arrow is Steve Adams. Sheriff laughed. He didn't believe it. Brandon had an idea to prove it. He told sheriff to put Steve in prison for some fake charges. Then give them a stage carrying gold which will be robbed by fake robbers. They will see if Straight arrow arrives or not. If straight arrow arrives that means Steve Adams is not straight arrow. Sheriff found it to be fun and agreed. He caught Steve and put him behind the bars. Fortunately Packy had heard all their planning and he was the only one who knew it was going to be a real robbery as Brandon was tricking sheriff. Packy digged a tunnel and entered the jail. He told Steve everything. He took his place in jail meanwhile Steve went to get the robbers as straight arrow. He got the robbers. Soon sheriff also arrived. Everyone was amazed to see straight arrow there. Straight arrow warned sheriff not to try finding more about him again as he was going to lose his gold for his mistake this time. Straight arrow completed his job and went back to the jail as Steve Adams. When sheriff reached saw tooth junction, the realized Steve was still there and had not escaped to stop the robbery. He was amazed.
Straight Arrow-The Mysterious Stranger
Characters
Steve Adams: owner of broken bow ranch/ straight arrow
Packy: sidekick of straight arrow
Steve's buffaloes were dying of poison. He guessed it might be the water that contains poison and is killing those buffaloes. Steve and Packy went up the mountain to find out what's wrong with the water. When they reached there, they were welcomed with gun shots. Steve told Packy to hide behind the rock meanwhile he would go to sundown valley and come back as straight arrow. But when straight arrow came back, Packy was gone. He knew Packy might be in danger so he moved quietly and entered into a windowless building. He saw Packy there. Packy was warning him but it was too late. The doors had closed. Suddenly a strange man appeared who called himself a scientist. He introduced himself and his inventions to straight arrow. He showed him the poison he had made to wipe out everybody. He had previously tested on animals and now he wished to test it on humans, which means straight arrow and Packy. Straight arrow stroked an arrow towards him and ordered him to free Packy. Then he asked him to open the door but before that a glass broke and the room filled with smoke. It was tear gas. Next, the scientist projected sleeping gas on them. Straight arrow told Packy to pretend to be sleeping. Seeing them sleep, that strange man opened the door and asked his men to tie up straight arrow and Packy. Suddenly straight arrow and Packy rose, defeated those men and escaped the building which had set on fire. They tried to keep a hold on that scientist but he freed himself and ran towards his laboratory which blasted off. Luckily straight arrow and Packy were safe as they were far away from it.